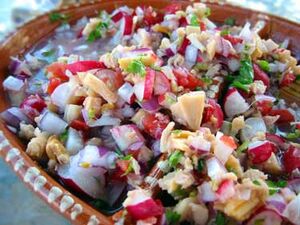 Prep Time: 1 hour
Cook Time: 20 minutes
Yields: 4 servings
Description
[
]
Originally created by fishermen as a way to eat part of their catch during long days at sea, ceviche utilizes the acid in lime juice to "cook" the fish.
Ingredients
[
]
1 1/2 pounds ono, mahimahi, or bluenose bass, diced
1/2 small red onion, halved and slivered
3/4 cup lime juice
1/2 teaspoon salt
1 habanero chile, seeded, halved, and thinly sliced (optional)
1 tablespoon ají amarillo sauce (optional)
1/2 cup cilantro leaves, chopped
1 orange sweet potato (such as Garnet or Jewel), boiled, peeled, and sliced
1 cob sweet corn, boiled and cut into 4 pieces
4 butter lettuce leaves
Directions
[
]
1. Rinse diced fish and slivered red onion in cold water. Dry thoroughly.
2. In a large bowl, combine fish, red onion, lime juice, salt, habanero (if using), and ají amarillo sauce (if using). Cover and refrigerate 20 minutes.
3. Prior to serving, stir in cilantro. Divide between 4 bowls and serve with sweet potato, corn, and lettuce leaves on the side.
4. Serve.