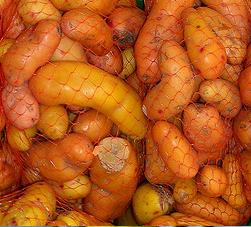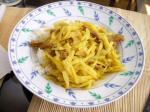 Prep Time: 20 minutes
Cook time: 45 minutes
Serves: 6 as a main course, 8-10 as entrada
Description
Edit
The Olluco is a colorful root crop widely grown throughout South America, in particular in the Andean region. It is second only to the potato. It remains crisp, even when cooked. Therefore it lends itself to a wide variety of meal preparations.
Ingredients
Edit
2 lb (1 k) olluco, cut into fine julienne
4 tablespoons oil
½ lb (250 g) beef cut in fine julienne or ground meat
½ cup onion, finely chopped
3 garlic cloves, finely minced
1 teaspoon paprika
1 teaspoon dried oregano
Salt and pepper to taste
1 teaspoon cumin
2 tablespoons ají panca / dried red aji (chili)
2 tablespoons parsley, chopped
Directions
Edit
Soak ollucos in salted water for 1 hour once they are cut. Heat oil in a large skillet and fry beef until meat is golden. Remove from skillet and reserve. Cook onion and garlic in the same fat, until tender. Add paprika, ají paste, cumin, oregano and salt. Cook for 2 to 3 minutes.
Drain ollucos and add to onion mixture. Add beef, stir and cover pan. Cook over low heat until olluco is tender, approximately 15 to 20 minutes, stirring frequently. Add parsley and combine.
Serve with white rice.
Community content is available under
CC-BY-SA
unless otherwise noted.